Our Services
Barefoot Landscaping provides more than just weekly lawn maintenance. Please consider us when in need of any of the following services.
We serve Limerick PA, Royersford PA, Oaks PA, Kimberton PA, Skippack PA, Phoenixville PA
Lawn Care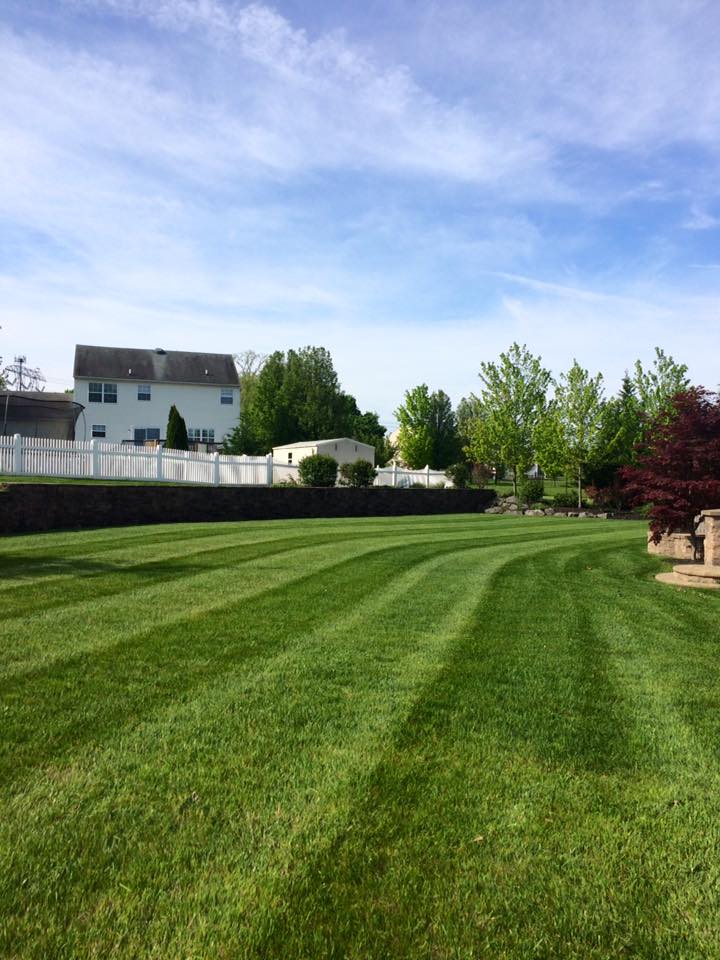 We welcome the opportunity to provide full maintenance service.

Standard service includes mowing the entire yard, line trimming around all trees, posts, fencing, etc., edging all sidewalks, patios and driveways with a blade edger and clean up of all clippings.
Fertilization and Weed Control
Our six-treatment service keeps your property beautiful year round. We will fight those hard to kill weeds until they are gone. If it takes more than six treatments, the additional service calls are on us.
Shrub and Tree Trimming
Mowing the yard is only half the challenge. Bushes and trees that are not consistently maintained hurt the appearance of even the best-kept property. We provide excellent shrub and tree pruning based on personal preference and expert opinion.
Mulch Installation
Mulch is a protective cover placed over the soil to retain moisture, reduce erosion, provide nutrients, and suppress weed growth and seed germination. Using them in gardens and landscaping mimics the leaf cover that is found on forest floors.

Mulching also provides a beautiful contrasting curb appeal. We are happy to provide all of your mulching needs. You just can't go wrong with proper mulching.
Lawn Seeding and Sodding
Starting a lawn from seed is the least expensive way to transform your yard with a new lawn. Also, it is an easy way to reinvigorate areas of your lawn where the turf may be a little sparse. The best time to start lawns from seed usually is just prior to the grass's season of most vigorous growth. Let us help you determine the best type of grass with which to seed your lawn, and when to do it. We also provide sodding services to patch up areas or cover up old mulch beds.
Fall Leaf and Seasonal Cleanup
Our leaf and seasonal cleanups leave your lawn looking completely different. With our clamshell bagger we are able to suck up any leaves and debris.
Hardscape Design and Installation
It is our goal to help you create the space you have always dreamed of. Whether it is regal entryway, a cozy patio, or an outdoor entertaining area, we'll help you turn those dreams into reality.
Call us to today to enjoy the beauty of a landscaped yard by Barefoot Landscaping . We will design the landscape to your specifications and professionally install it with minimal inconvenience to you.
Concerned we do not offer the service you seek? Call us; we are happy to recommend service providers that maintain the same standards we do.
Do you need property maintenance for a commercial property? Barefoot Landscaping can establish a budget and remain within it. All costs are known. There are no hidden or indirect charges. With our safety practices, training procedures and comprehensive insurance, we will nearly eliminate your exposure to liability as a result of careless or abusive use of equipment or chemicals.
Barefoot Landscaping strives to be a one-stop 'Outdoor Service Provider'. We provide all types of service from lawn care to snow removal. If your outdoor services are not currently managed by one service provider, let us show you the return on investment (ROI) earned by switching to Barefoot Landscaping . We solely focus on grounds maintenance so you can focus on your business.
Call today to see if Barefoot Landscaping is the right service provider for you! 610-812-8389